The Last Ship Season 1 Episode 8
if there is a probem with video audio and subtitles, try a different server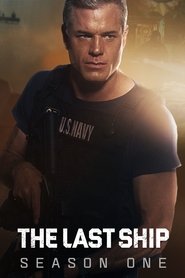 The Last Ship Season 1 Episode 8
With Chandler and Tex caught in a dangerous situation, Slattery has to step into the role as commanding officer. Torn between a mission with the fate of the world at stake and a Captain (and friend) in danger, Slattery has to find a way to get his people back without losing the most important asset: the vaccine prototype.
Serie: The Last Ship
Director: Michael Katleman
Guest Star: Alice Coulthard, Andy T. Tran, Chris Sheffield, Ebon Moss-Bachrach, Eugene Alper, Hope Olaidé Wilson, Ilia Volok, Jocko Sims, John Pyper-Ferguson, Maximiliano Hernández, Michael Curran-Dorsano, Ness Bautista, Ravil Isyanov
Episode Title: Two Sailors Walk Into a Bar...
Air Date: 2014-08-10
Year: 2014